Disclaimer: I am not writing this

to

anyone, so if you are one of my single friends, please don't take this as my trying to be all annoying and matchmakery...this is just something I have been thinking about recently...
I've been thinking lately about my many unmarried friends who are around my age (late 20s). They have each expressed a desire to settle down and start a family. These are attractive, intelligent, educated, good people who would all make good spouses for someone...so why are they still single?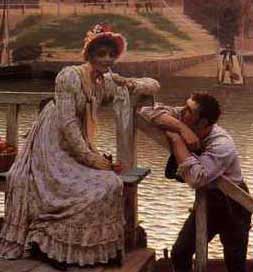 Several have expressed the feeling that it is difficult to meet people, or, at least, that it is difficult to meet the sort of people that could be considered marriage material. Once upon a time, when people lived their entire lives in the same little town, they grew up with their future spouses. A boy could look around at the girls his age and see that these were his options, and when he got ready to marry he'd pick one of them...when the choices are fewer the process is certainly simplified. Of course modern culture has convinced us that we need to worry about things like falling in love, but I would venture to suggest that if two people with common values and goals are willing to commit to each other, then love and attraction will fall into place. (And really, what's the stronger basis for a relationship anyway?) So are clubs, parties, dances, movies, or dates an ideal way to meet potential spouses? I would submit that they are not. Sitting in the dark, with little more than small talk or some dancing, is not much of a way to get to know someone.
As most of my readers know by this point,
I met my Hubby online
, and frankly, I think that route makes a lot of sense. We no longer live in the same tiny town our entire lives. As people move farther apart and live more independent lifestyles, it becomes harder to find people who share our values and goals, and therefore harder to find people to marry. Modern dating methods (the movies and dances I mentioned before) do not facilitate getting to know each other well enough to know what we truly have in common...instead they promote superficial things like physical attraction or similar taste in foods. Even in the settings where supposedly all the attendees are "marriage material" (such as at a church function), I find that strength of convictions and perspectives on life still vary...and if the goal is to find someone with shared goals and values, well, even a church-sponsored activity (or a church-owned school!) is not necessarily sufficient. The simple fact is that, with our diverging and busy modern lifestyles, it
is
harder to meet like-minded people through routine activities...and this is why I think that online dating makes so much sense.
There is also a second reason why I support online dating.
I remember the day I told my mother that someone was going to come visit for the weekend (he lived in another state), that I had met him online, and that I had a feeling that this was someone important. (I actually already knew that I was going to marry him, but since we hadn't met in person yet, I wasn't ready to tell anyone that fact!) My mom just smiled and said "I know...and I think that seems like a very healthy way to get to know someone--focusing on the conversation and really getting to know each other instead of just going on some dates."
I agree with her. There is some safety in taking the online approach to getting to know people. I'm reminded of the puritan style of courtship, where the young man
would come visit the girl in her home (with her siblings and parents in the room) and the would sit on either side of the fireplace and talk to each other through a "courtship tube." They were able to get to know each other on intellectual, spiritual, and social levels, without the distraction of physical intimacy (of whatever degree). I strongly believe that once the hormones come into play, the brain ends up on the bench. Hormones are fine, but when you're choosing a spouse, it's a good idea to make sure your brain is fully functional. As the saying goes,
"keep your eyes wide open before marriage, and half-shut afterward."
Later generations utilized a "courtship bench" (as pictured) which allowed the young people to talk in a slightly more cozy manner, while still keeping enough of a barrier to assure the proper decorum. I think that the internet (used intelligently of course) can be the modern version of these chaste courtships.
Now obviously, without face-to-face meetings, it is possible for someone to misrepresent themselves. There are a few common sense things that one can do to protect themselves from the creeps who are out there, and one of those is to stick with dating sites which have built-in protections. The site I used did not allow us to post our email address, phone number, or exact location, and it had an internal instant messaging program, so that we did not have to share even that contact information until we felt comfortable withs someone. I do not have experience with many sites, but I do think that sites such as e-harmony are pretty good (the registration process is quite lengthy, and I don't think the average punk looking for an easy lay is going to bother with it). There are also sites that are religion-specific--LDSsingles worked for me. ☺